Recent Events
Master Course on Trauma & Joint Replacement Surgery
27th Aug 2011
The Indo German Orthopaedic Foundation in collaboration with Bangalore Orthopaedic Society successfully conducted a Master's Course on Trauma and Joint Replacement Surgery on August 27th & 28th, 2011.
Course Synopsis
With the number of revision joint replacement surgeries on the increase it is prudent that the orthopaedic world takes a step back and reviews current practice. The tendency today even in trauma around the joints is to replace rather than preserve the joint. A debate regarding techniques of joint preservation in fractures as well as prosthetic failure and revision of replaced joints is the need of the hour to introduce good clinical practice in budding orthopaedic surgeons.
International Faculty comprising experts from all over the world in Trauma and Revision Joint Replacement Surgery debated on the techniques, treatment and management of this current dilemma (to fix or to replace) facing the young Indian Orthopaedic Surgeon.
Programme Details
| | |
| --- | --- |
| Topic | IGOF Master's Course On Trauma & Joint Replacement Surgery |
| Date | August 27th and 28th, 2011 |
| Venue | API Bhavan, 16/F, Millers Tank Bund Road, Vasanthnagar, Bengaluru, Karnataka India – 560052. |
| Landmark | Near Bengaluru Cantonment Railway Station |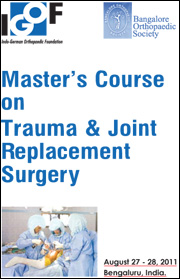 Download E- Invite with Application Form for the upcoming IGOF Master's Course on Trauma and Joint Replacement Surgery, August 27 & 28, 2011.
Programme Schedule
Saturday, August 27, 2011
Day 1
TIME
TOPIC
SPEAKER
09.00 Hrs.
Basic Principles in the Management of Trauma
Prof. Siegfried Weller Tuebingen, Germany
09.30 Hrs.
HipFemoral Head Fractures Pipkin Classification
Prof. U. Holz Stuttgart, Germany
10.00 Hrs.
Knee Distal femur fractures – approaches and fixation
Prof. Pol M. Rommens Mainz, Germany
10.30 Hrs.
Proximal Tibia Fractures
Prof. U. Holz Stuttgart, Germany
11.00 Hrs.
Role of intra medullary nailing in Metaphyseal fractures
Prof.Pol M. Rommens Mainz, Germany
11.30 Hrs.
Complex Ligament Injuries Open reconstruction techniques
Prof. U. Holz Stuttgart, Germany
12.00 Hrs.
Arthroscopic techniques in complex Ligament injury
Dr. Hemanth Kalyan, Manipal Hospital, Bengaluru
12.30 Hrs.
Ankle Trimalleolar fractures and reconstruction of Type-C Pilon fractures
Prof. Pol M. Rommens Mainz, Germany
13.00 Hrs.
Shoulder Reconstruction of 3 & 4 part fractures
Prof. U. Holz Stuttgart, Germany
13.30 Hrs.
Indication and techniques for primary shoulder arthroplasty
MIOT Hospitals
14.00 Hrs.
 – Lunch Break –
15.00 Hrs.
Fracture dislocation elbow and role of Coronoid Process
Prof. U. Holz Stuttgart, Germany
15.30 Hrs.
Indication for primary arthroplasty in Complex injuries of the shoulder
Dr. Ajith Shetty, SSIOT, Mangalore
16.00 Hrs.
WristIndications for "K"wire fixation in distal radius
Dr. Ramprasad, MIOT Hospitals
16.15 Hrs.
Reconstruction of comminuted intra Articular fractures of the distal radius
Prof. Pol M. Rommens Mainz, Germany
16.30 Hrs.
Special Lectures Pelvic Fracture
Dr. Ramprasad, MIOT Hospitals
16.45 Hrs.
Management of Cervical Compressive Myelopathy
Dr. Nikhil Arabatti, MIOT Hospitals
17.00 Hrs.
Management Strategies for deformities of spine
Dr. C.S. Dhillon, MIOT Hospitals
17.15 Hrs.
Panel Discussion
Prof. Dr.U. Holz

Prof. Pol M. Rommens

Dr. Thomas Chandy

Dr. Hemanth Kalyan

Dr. Ramprasad

Dr. Ajith Shetty
Sunday, August 28, 2011
Day 2
TIME
TOPIC
SPEAKER
09.00 Hrs.
Lecture 1 Fixed Bearing vs Mobile Bearing Total Knee Replacement – My Experience
Dr. Chandramouli, Apollo Hospitals
09.30 Hrs.
Unicompartmental Knee Replacement Vs High Tibial Osteotomy
Dr. Thomas Chandy, Head – Hosmat Hospital
10.00 Hrs.
Managing deformities in Total Knee Replacement
Dr. Raj Chakravarthy, Manipal Hospital, Bengaluru
10.30 Hrs.
– Tea Break –
10.40 Hrs.
Bone conserving surgery in the knee – Does it work
Dr. Sharan Patil, Head – Sparsh Hospital
11.10 Hrs.
Management of infected Total  Knee Replacement single stage  vs second stage – multiple stage or arthrodesis
Dr. Sanjay Pai, FORTIS Hospitals
11.40 Hrs.
Peri Prosthetic Fractures
Dr. Barry D. Rosario, MIOT Hospitals
12.10 Hrs.
Panel Discussion – Computer Navigation in its present state Chaired by:
Each panel member will open the discussion with a 10 minutes presentation
Dr. HPC Khincha (Sagar Hospitals)
Dr. Chandramouli (Apollo Hospitals)
Dr. Barry D. Rosario (MIOT Hospitals)
12.40 Hrs.

– Lunch Break –

13.00 Hrs.
Extraction of acetabular and femoral implants
Dr. Prithvi Mohandas, MIOT Hospitals
13.30 Hrs.
Revision acetabulum – the unsolved problem
Foreign Faculty
14.00 Hrs.
Atypical Total Hip Replacement
Dr. Prithvi Mohandas, MIOT Hospitals
14.30 Hrs.
Dealing with infections in Total Hip Replacement
Dr. K.S. Manjunath, Bangalore Medical College & Research Institute
15.00 Hrs.
Distally Fitting revision Total Hip Replacement
Dr. Prithvi Mohandas, MIOT Hospitals
15.30 Hrs.
Unstable hip – My approach
Foreign faculty
16.00 Hrs.
Panel Discussion – Ideal Hip Lead by:
Dr. Prithvi Mohandas
Dr. K.S. Manjunath
Dr. Sundaresh