[rev_slider_vc alias="banner"]
IGOF (Indo German Orthopaedic Foundation)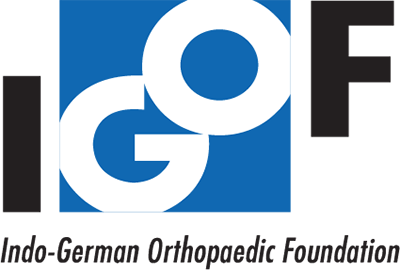 The aim of "IGOF – Indo German Orthopaedic Foundation" is to promote friendship, comradeship and collaboration between Indian and German Orthopaedic Surgeons.
IGOF holds 2 seminars every year and has held more than 33 seminars in the last 26 years. Topics have ranged from Spine, Trauma and Reconstructive Surgery, Fractures of Hip, Femur and Knee, Injuries of the Upper Extremity etc. and has conducted seminars across the country which includes cities like Chennai, New Delhi, Mumbai, Bengaluru, Hyderabad, Visakhapatnam, Kochi, Bhopal, Goa, Kanpur, Jaipur, Ahmedabad, Kolkata, Nagpur, Vadodara, Bhubaneswar and many more.
IGOF has always contributed to improving the knowledge and skills of young Indian Surgeons by creating a platform and encouraging them through participation in the IGOF seminar amongst the Masters in Orthopaedics.
IGOF Initiatives
IGOF Fellowship (IGOF offers Fellowships to Young Indian Orthopaedic Surgeons for undergoing training over a period of 4 to 6 weeks in one of the outstanding centers in overseas)
Grand Orthopaedic Quiz for PG's
Paper presentation by Young Orthopaedic Surgeon below 40 years (Mohandas – Weller Gold Medal Award)