Recent Events
Spine Course on Minimally Invasive Spine Surgery
11th Oct 2008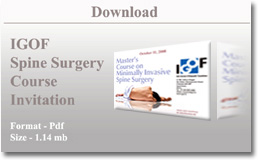 Indo German Orthopaedic Foundation successfully conducted its 1st IGOF Spine Course on Minimally Invasive Spine Surgery in Chennai at MIOT Hospitals on Saturday, October 11, 2008.
More than 200 delegates across the globe participated in this event.
Topic of discussion
In past 50 years, Spine surgery has emerged as one of the fastest growing disciplines of medicine. With growing experiences in spine surgery, the surgical fraternity has witnessed a flip side of open spine surgeries. Extensive epidural and paraspinal scarring, loss of posterior tension band, delayed rehabilitation, loss of working hours etc, have raised concerns and have paved the way for the development of Minimally Invasive Spine technologies. We, in this spine course, have tried to present a few of many minimally invasive spine technologies
namely:
Dynamic stabilization of degenerated lumbar motion segment using DIAMTM
Percutaneous pedicle screw fixation of thoraco-lumbar spine
Balloon Kyphoplasty
The seminar was followed by Live Surgeries performed in the modern laminar flow theatres at MIOT Hospitals.
THE FACULTY DR. ANTONIO PAOLO FABRIZI
Dr. Antonio Paolo Fabrizi is a neuro-spine surgeon with a specific interest and specialization in Minimally Invasive Spine surgeries. Dr. Fabrizi, a frequent faculty to many spine meets and conferences, is known for his endoscopic spine surgeries for cervical, thoracic and lumbar discs. He has honored boards of many reputed international hospitals including the well-known Mayo Clinic. He has the largest series of DIAMTM with probably the longest follow-up.
Dr. JUN HO LEE
Neurospine Surgeon Wooridul Spine Hospital, Seoul, South-Korea.
Dr. Jun Ho Lee is a neurosurgeon specialized in spine surgery. His main focus is on minimally invasive and non-fusion spine surgeries. His major work involves endoscopic spine surgery.
VENUE DETAILS
This year's venue for IGOF is one of the country's leading hospitals and a renowned centre for Orthopaedics in India. MIOT was the first hospital to bring Computer Navigated Surgery to the Asia Pacific and is a pioneer in promoting minimally invasive techniques, keyhole and pinhole surgery. MIOT's orthopaedic team has completed 35,000 surgeries, including hip and knee replacements, on patients from all over the world.
Address : MIOT Hospitals
4/112, Mount Poonamalle Road
Manapakkam
Chennai – 600 089
Tamil Nadu
INDIA
Website : www.miotinternational.com
DATE
October 11, 2008
SCHEDULE
IGOF MASTER'S COURSE ON MINIMALLY INVASIVE SPINE SURGERY PROGRAMME
Saturday, October 11, 2008
Registration: 08.00 am – 08.30 am
1
Gong – MIOT Anthem
2
Welcome by Prof. Dr. P.V.A.Mohandas
3
History of IGOF by Dr. Prithvi Mohandas
4
Inaugural address by Prof. Dr. S.S.K. Marthandam
5
Stabilization of the Spine – Present Scenario by Dr. C.S.Dhilion
6
Dynamic Stabilization of Lumbar Spine – Concept, Rationalization & Experience by Prof. Fibrazi
7
Indian Experience by Niraj Vasavada
8
Tea
9
Live Surgery (DIAMTM)
10
LUNCH
11
Multi-level Percutaneous Screws – Concept, Rationale & Experience by Dr. Jun Ho Lee
12
MIOT Experience by Dr. Niraj Vasavada
13
Live Surgery
14
Discussion
Gallery